In a dwelling, the bathroom space has its own portion which is quite important, you can try to take the theme of an outdoor bathroom or an outdoor bathroom. Being outside the house or the exterior of the house may be the hallmark of an outdoor bathroom. Because actually the bathroom does not have to be designed in a closed room but can also be designed in such a way that the house feels like being in the wild but still maintains its privacy. The use of an outdoor bathroom can prevent moisture and its own impression. Come on, let's get to the core of 7 amazing bathroom inspirations using an outdoor theme that you can use below.
1. Cooperating with nature
Since an outdoor bathroom is bound to be on the exterior of the house or outdoors, embrace the natural environment with the use of a variety of greenery. Bathing outdoors surrounded by various leaves such as coconut leaves and ornamental plant leaves will make you feel like you are on vacation in the tropics. That way the maximum comfortable impression in the bathroom can relieve your fatigue.
2. Make a small path (pathway)
To make the outdoor shower stand out and look more grand, put a small path of cement or stone tiles that will lead to the outdoor bathroom. Then hang hooks on the outer dividing wall so you can easily display your beautiful towels.
3.Bring the outdoor bathroom inside the interior
Outdoor bathrooms are not only outdoors, you can work around this with an open ceiling. Sunlit showers open on private outdoor or indoor patios are perfect for alternating cool and hot residences.
4.Make it a unique architecture
Taking an outdoor bath with a unique design must be everyone's dream. The unique architecture will give a different impression when you bathe in it. Like the use of a unique wall shape made of sculptures, or the use of thatched roofs, you can put it in an outdoor bathroom.
5. Place side by side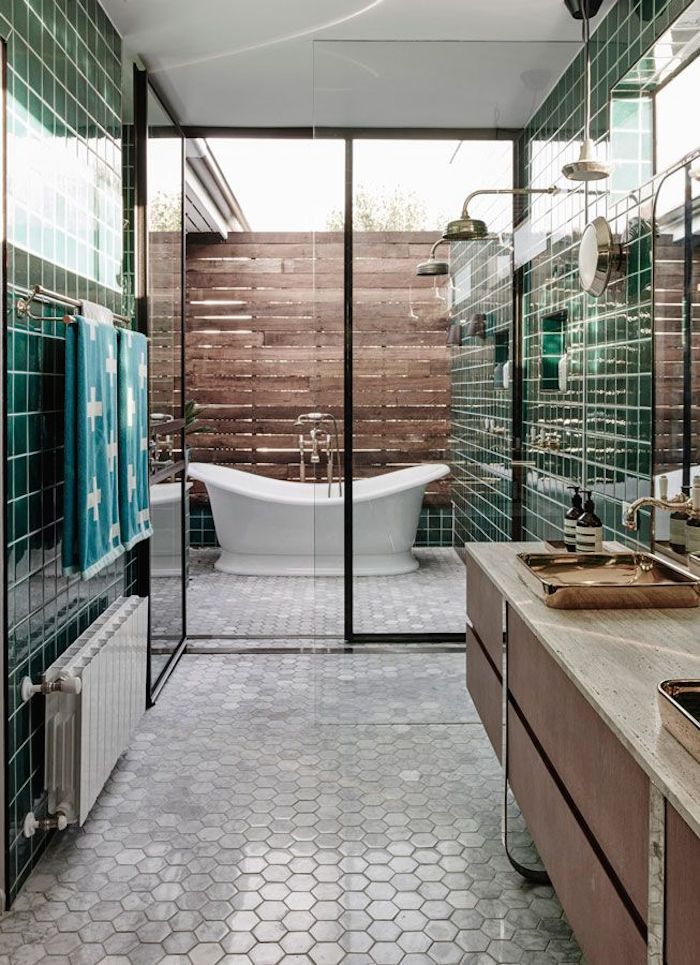 Why should you be confused about choosing an indoor and outdoor shower when you can get both at once? Yes, separate the two bathrooms with a glass wall so you can use them according to your mood. Very unique isn't it?
6.Create a sense of privacy
Make your outdoor bathroom look extravagant with a fence for the door. This is done to create a sense of privacy even though there is no head covering or top cover.
7.Outdoor bathtub
Turn your enclosed courtyard into an outdoor bathroom with glass as a divider. Put a bathtub and make the yard like a spa without you having to leave the house.
Well, those are 7 bathroom inspirations that look amazing with the use of an outdoor theme that gives the impression of being one with nature. Rinse in the sun to be one of the interesting things from using the open bathroom above. You may not have it at home yet, but seeing the inspiration above is very evocative to make it in your home, right? Bathroom inspiration from rustic to modern or minimalist and nature above will make you transpiration in creating an outdoor bathroom. So, which number is your favourite?